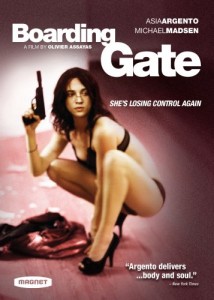 Written & directed by Olivier Assayas
Produced by Françcois Margolin
Director of Photography, Yorick Le Saux
Edited by Luc Barnier
Released by Magnet Releasing
Language: English, French, & Cantonese with English subtitles
France. 93 min. Not Rated
Cast:  Asia Argento, Michael Madsen, Carl Ng, Kelly Lin, Joana Preiss, Alex Descas, & Kim Gordon
[Article originally appeared: http://www.film-forward.com/boarding.html]
Boarding Gate, a B-style movie but not quite a film noir, looks slick on the surface but just beneath is an awfully slimy mess. It stars the young Italian actress Asia Argento (the upcoming Go Go Tales) as an ex-prostitute-turned-reluctant action hero, Sandra, and the usually reliable Michael Madsen as down-on-his-luck entrepreneur Miles, her ex-lover/ex-employer. The two have been estranged for some time but circumstances bring them back together. Their history suggests a combination of S/M as well as actual romantic love.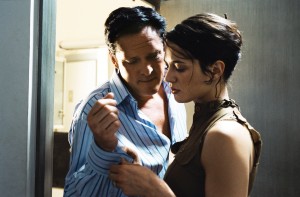 During their time apart, Sandra has seemingly turned her life around and been working at a legitimate job for a Chinese couple running an import/export company. She has also embarked on a passionate affair with the husband, played by the model/actor Carl Ng. Madsen, always a compelling actor and one who seems to further resemble Nick Nolte with each passing role, has very little to do with his character and, mercifully for him, he disappears reasonably soon.
After a visit to Miles' apartment where a bondage experience goes terribly awry, Sandra runs off from London to Hong Kong and, admittedly, the story's pace definitely picks up. And that's a very good thing because all of the actors seem to be otherwise somnambulant. Mostly the film is a series of action thriller cliches with some sex scenes thrown in. Argento has an amazing body, and the camera lingers on it throughout, but she delivers such a depressing performance that the term understated is an understatement. The scenes in Hong Kong – and the reason why earlier I referred to Sandra as an action hero – are pretty much the stuff of standard chase movies; she's simultaneously dodging bullets while trying to figure out who's after her and how to stop them. It's been done a lot better in many other action thrillers and with far less sedated actors.
Filmed on location in Hong Kong, the film's director, Olivier Assayas (director of the much better and energetic Irma Vep) apparently thought that shooting on location with an attractive international cast would automatically give the story an authenticity or weightiness that might have been the case had he written a coherent script or cast actors who spoke at an audible level. At one point, Sandra is slipped a Mickey, and I found I was truly envious. With a six-week shooting schedule and a budget of around two million euros, Assayas apparently was looking to make the movie on the fast and cheap, which proves that sometimes fast and cheap just ends up seeming fast and cheap.